Going to the stylist regularly for hair color treatment is a bit steep and can be time-consuming. But all that can change with the use of our newly formulated AnyaBoutique™ Herbal Hair Darkening Shampoo Dye -- Regain your confidence back by looking and feeling younger again with this shampoo dye. Refresh your hair color from grey to any colors you want in just minutes! Time to say goodbye to your aging and dull hair!
Carcinogenic products can have side effects you totally want to avoid. Our Shampoo protects and repairs your hair for a healthy and shiny finish. Furthermore, it naturally restores pigment cells, while conditioning with 100% organic herbs that are non-toxic & chemical-free.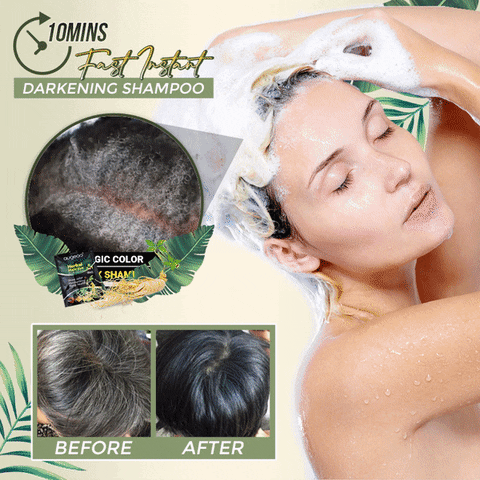 FEATURES & BENEFITS | WHY OUR SHAMPOO
REFRESH YOUR HAIR COLOR INSTANTLY: Apply the shampoo dye to your hair and you will see the transformation of your grey or white hair to shine and vivid dark color again in just minutes!
100% ORGANIC (NATURAL INGREDIENTS): Pure natural plant ingredients and other minerals are utilized without harmful chemicals for safe skin use. Use it with confidence, even on sensitive skin! 
PROMOTES HAIR GROWTH & PREVENT LOSS: Effectively prevents hair loss by promoting blood circulation of the scalp, stimulating the growth of hair follicles and binding the hair roots onto the scalp within 2 weeks while it moisturizes and repairs hair damage.
MULTIFUNCTIONAL USE: Suitable for both men & women. Works on all hair types and lengths. Also works on beard. 
WIDE VARIETY OF COLORS: Available in six colors to suit your taste and vibes.
HOW TO USE | 3 STEPS TO REFRESH YOUR HAIR:
Take a quarter sized amount (depending on hair). Massage gently with your fingertips thoroughly, and leave on for 3 to 5 minutes. Can be used 1-4 times weekly or completely based upon preference
SPECIFICATIONS:
Capacity: 30ml
Colors: Black, Red Wine, Coffee, Deep Coffee, Purple, Chestnut Brown
Main Ingredients: Polygonum Multiflorum, Palm Oil, Olea Europaea, Panax Ginseng, Glycerine, Black Sesame Seeds
PACKAGE INCLUDES:
1 x AnyaBoutique™ Herbal Hair Darkening Shampoo Dye
★ 100% ORGANIC – FD&C ACT APPROVED ★
Unlike ordinary hair shampoo or dye that is full of harmful chemicals, AnyaBoutique's Herbal Darkening Shampoo & Dye is made of all-natural herbal ingredients. Non-toxic and chemical-free, while protecting your hair follicles and scalp from irritation or allergy...Making it safe for people of all ages, including pregnant women and children.